SARISKA WEEKEND GETAWAY
Duration : 02 Nights / 03 Days
Destinations Covered : Delhi > Sariska > Jaipur
01 Day : Delhi > Sariska National Park
Departure from Delhi to Sariska. On arrival, check-in to your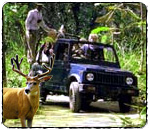 hotel or resort. Overnight stay at the hotel in Sariska.
2Day : Sariska National Park
Enjoy your morning & afternoon jeep-safaris in the Sariska Tiger Reserve. Overnight stay at the hotel in Sariska.
03Day : Sariska > Delhi > Jaipur 
Departure from Sariska to Delhi / Jaipur. On arrival you will be transferred to a nearby airport/Railway Station hotel and later on for your onward journey.
General information Sariska National Park
Travel time :
Seasons  : Winter  October to January.
Spring  : February to March.
Summer :  April to June.
Monsoon  :  July to  September.
Note –  open in July to September.
Book  9/12/15/16/18/ and 20 Seater  Tempo Traveller
Out Station Rates from Jaipur
Jaipur Local Tour Rates by Tempo
Minimum Running (Per Calender Day)
250 Kms
12 Hours / 120 Kms
4500 Rupees
Rate (In Rupees)
18 P/Km
08 Hours / 80 Kms
3600 Rupees
Running Calculation
Jaipur to Jaipur
Extra Hours (Inclusive of 10 Kms)
400 Rupees P/Hr
Tolls, Parking & Inter State Taxes
As Actual
Extra Kms
18 Rupees P/Km
Driver Allowance (In Rupees)
300 P/Day
Parkings
As Actual
Luxury Tempo Traveller Features :
Pushback Seat.
Sound System.
Color LED Screen
Both AC & Non AC
ICEBOX, First Aid Box.
Driver and cleaner in Uniform.
Wi Fi 3G 4G Speed Internet Services.
Mineral Water
Local Guide with Excellent Knowledge.
Tours Escorts Speaking International Languages.
Flexible Payment options and Money Exchange Services.
(Terms and Conditions to Hire Tempo Traveller for Outstation Trip)
Time and Kilometers will be calculated from Jaipur Garage to Jaipur Garage.
Driver Allowance Rs.300 per day.
Government Inter State Taxes, Toll Fees and Parking will be charged extra as actual.
Minimum 250 km perfect will be charged for Outstation Tour.
Not Including All Government Monument Tickets, Trains, Flights and other charges.
Includes:
Friendly and responsible driver.
Vehicle Fuel.
Neat and Clean Cover for Every Seat
Good Sound Music System
NOTE :- A/C Could Not Allowed Hill Area .